Dustin Tyler is a popular social media influencer who has a huge following on TikTok and Instagram. As you can see, his whole body is covered in tattoos and maybe it's because he's also a tattoo artist. He rose to fame after claiming to be the son of famous Canadian actor Keanu Reeves.
In today's article, we are going to talk about Dustin Tyler, learn more about Dustin and also see the facts if he is really Keanu Reeves' son or if he is just lying.
Dustin Was A Drug Addict
As mentioned, Dustin is a popular social media influencer and was born on October 13, 1985 in Mankato, Minnesota. According to his date of birth, Dustin Tyler age is 36 years old (as of 2021), he will be 37 on 13 October 2022, his zodiac sign is Libra. He comes from a middle class family and is said to have been a drug addicted.
According to reports, once a heroin addict, he went from being a heroin addict to becoming a well-known social media influencer and tattoo artist.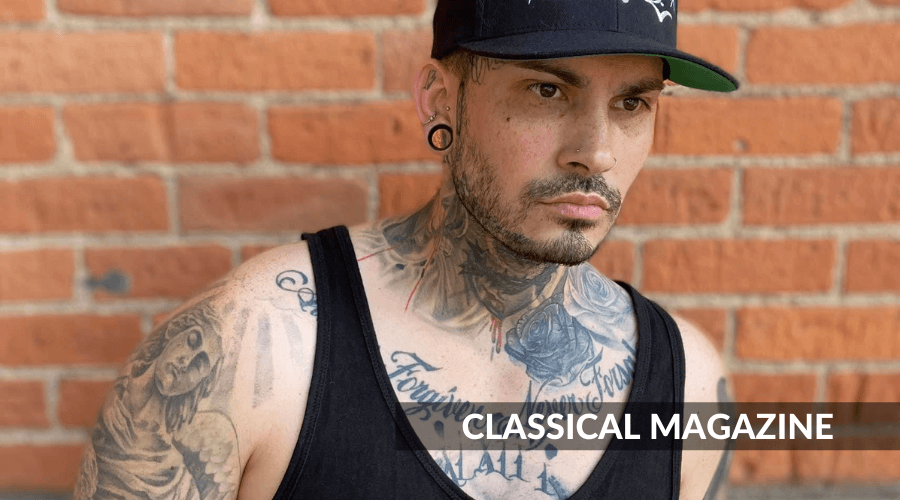 Dustin Was Raised By A Single Mother
There is no information available about his biological parents, sources say he was just a child when his biological father left him with his mother. It is said that his parents were not even married and after his father left him and his mother, Dustin's mother raised him alone.
A few months after his father left them, his mother married another man, and they moved to Oregon, US, where he grew up. Although he gave many interviews, he never talked about anything related to his parents, so we don't even know his parents' names.
Dustin is of Puerto Rican descent and appears to have graduated from high school. Before he rose to fame or started his journey as a tattoo artist, he worked in gift shops.
His Presence On Social Networks
As Dustin is quite a famous social media influencer, he is very active on his social media accounts like Facebook, Instagram, and TikTok. Famous celebrities like Jenna Jameson and Kelly Osbourne also follow him on social media.
On Instagram, he uses the username iamdustintyler and has over 105,000 followers. Speaking of his TikTok account, he goes by the username omfgitsdustintyler and he has over 1.8 million followers. In fact, he went viral via TikTok, and on Facebook he uses the username iamdustintylerh and has over 22,000 followers.
He also has a Snapchat account, but it doesn't seem like he's very active there.
Is Dustin Tyler Keanu Reeves's Son?
As mentioned, Dustin rose to fame after he started posting videos on TikTok claiming to be Keanu Reeves' son, so everyone has this question, is he really Keanu's son? What is the real fact? Let's find out.
He has posted several videos on TikTok claiming to be Keanu's son but we believe he is just doing it for fun and to engage his content but a lot of people are wondering if he is really Keanu's son and some people are wondering what if he's telling the truth? What if he really was Keanu's son? Many even asked him to stop doing this nonsense.
I mean, come on guys, there's a lot of conspiracy to think about if you really like to think, one last time, Dustin isn't Keanu Reeves' son, even though Keanu hasn't said anything about it. If he was really his son, I think Keanu would have gone public by now (just my opinion), so no conspiracy theories.
Does Keanu Reeves Have Children?
Keanu is undoubtedly one of the most handsome, charming and stylish actors in Hollywood and has a good history of dating a number of celebrities. Keanu Reeves has a daughter with his ex-partner Jennifer Syme named Ava Archer Syme-Reeves.
Sadly, Ava was stillborn on December 24, 1999, just eight months old, and then Ava passed away, shortly after her death the couple separated. On April 1, 2001, Jennifer had an accident and died at the scene, according to various sources.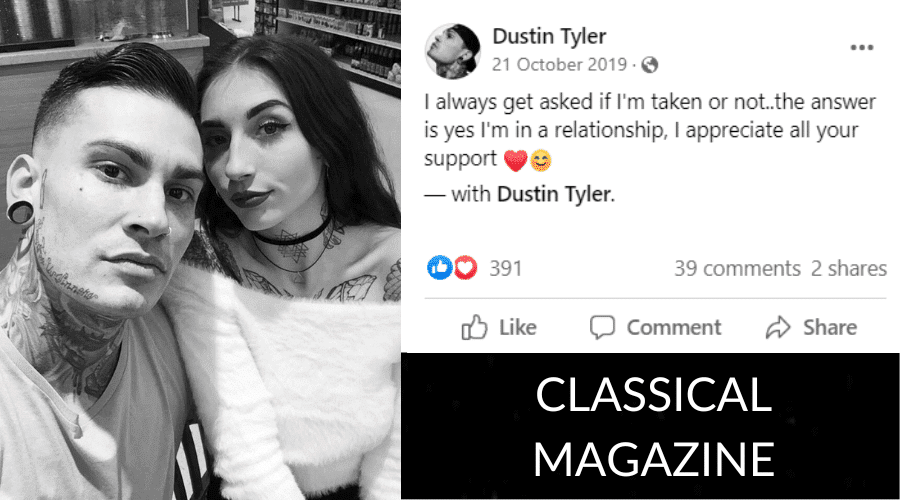 Dustin is in a relationship with a beautiful woman but he hasn't shared any information about her so we don't even know her name. On June 10, 2021, he shared a photo of himself with his girlfriend and captioned: How did he get so lucky?
According to sources, Dustin is also the father of a son he had from his previous relationship. His age is 24 when he became a father.
Dustin is a certified or licensed barber, tattoo artist, and social media influencer, so it's safe to say he has a net worth of $5 million approx.
Dustin Tyler's Social Media Accounts
FAQs
Who is Dustin Tyler?

He's a TikTok Star, Social Media Influencer, Tattoo Artist, Singer, Content Creator, and Entrepreneur.

What is Dustin Tyler's net worth?

5 million dollars approx.

How old is Dustin Tyler?

He is 36 years old (as of 2021).

Why is Dustin Tyler famous?

For his amazing TikTok videos.

Who is Dustin Tyler's wife or girlfriend?

He does not reveal the name of his girlfriend.

Is Dustin Tyler the son of Keanu Reeves?

It was only rumored, reports say.

Who is Dustin Tyler's son?

As per self made glory, he has a son named Carson.